At the end of a busy holiday season following the release of my first book, Working the Water, I decided to dedicate the month of January to traveling. After three years of shooting pictures almost exclusively on the Chesapeake Bay, I was inspired to dedicate time to photographing and learning about a new country. I contemplated traveling to destinations all over the world, but continually found myself coming back to a destination less than 100 miles from the United States—Cuba. Due to its tumultuous political past, the history and environment of Cuba has been preserved, and its culture extremely unique. I decided that Cuba would be my final destination, and it's beautifully decrepit streets, its ever-optimistic people, and its breathtaking landscapes and wildlife would be my new subjects.
This blog series of seven journal entries will share my photographs and experiences from 28 days of travel throughout the western portion of the island. The progression of the entries will follow the trip as we travelled west from Havana and back east along the southern coast to our final destination, Trinidad.
On Monday, January 9th, after five days in Havana we were scheduled to head west to Puerto Esperanza in the Pinar del Rio province. Puerto Esperanza is a small town, about a 30 minute drive from the more 'touristy' town of Vinales. We were able to easily hail a taxi from the Bed and Breakfast in Central Havana to Jose Marti National Airport for 25 CUC. At the airport, we exchanged additional dollars into CUC, not knowing if Puerto Esperanza would have a bank or cadeca (currency exchange). A helpful attendant at the airport, Raul Wilber, was able to call a friend of his to take us from the airport to Puerto Esperanza - a 3 and half hour drive - for 100 CUC.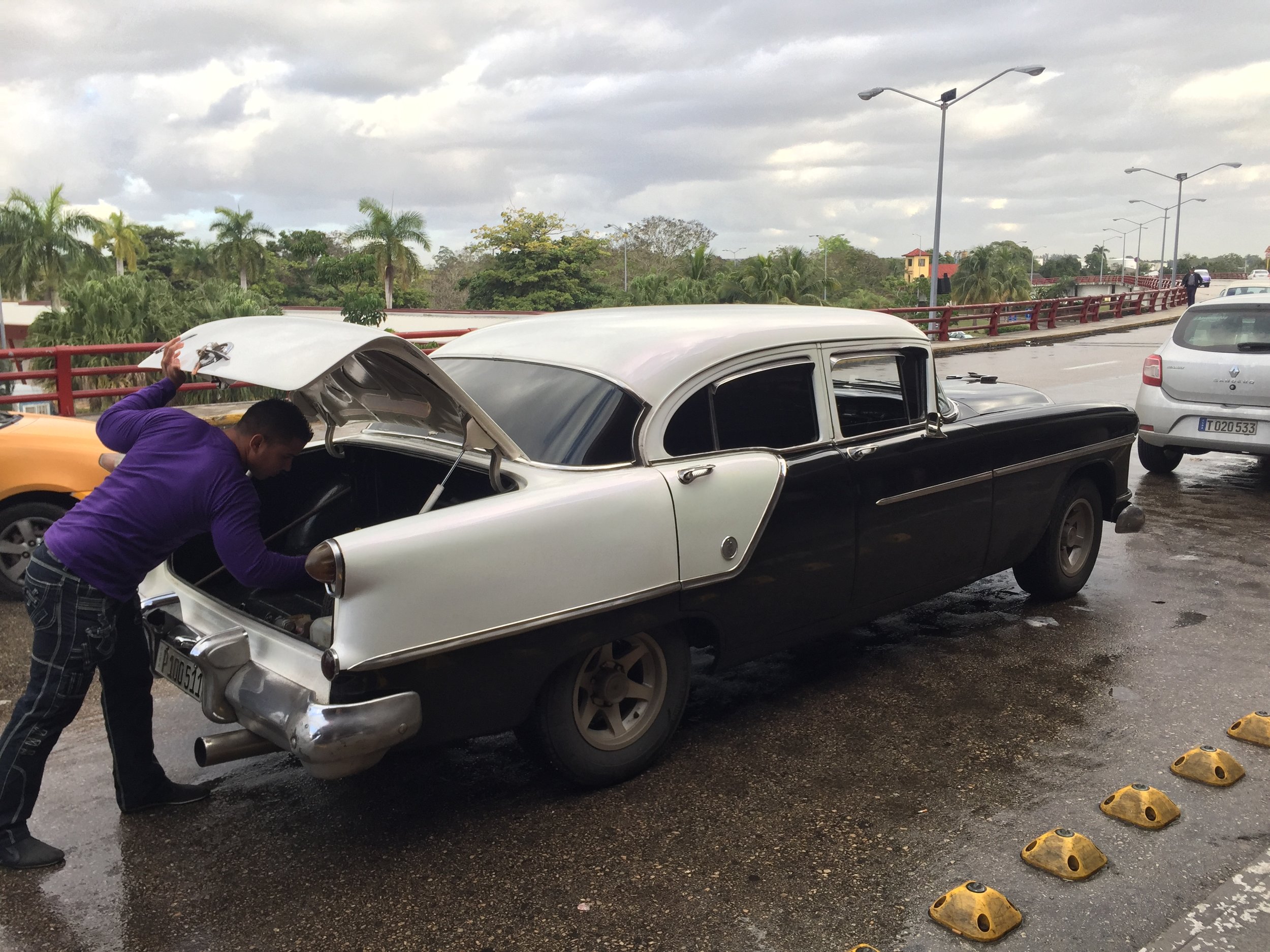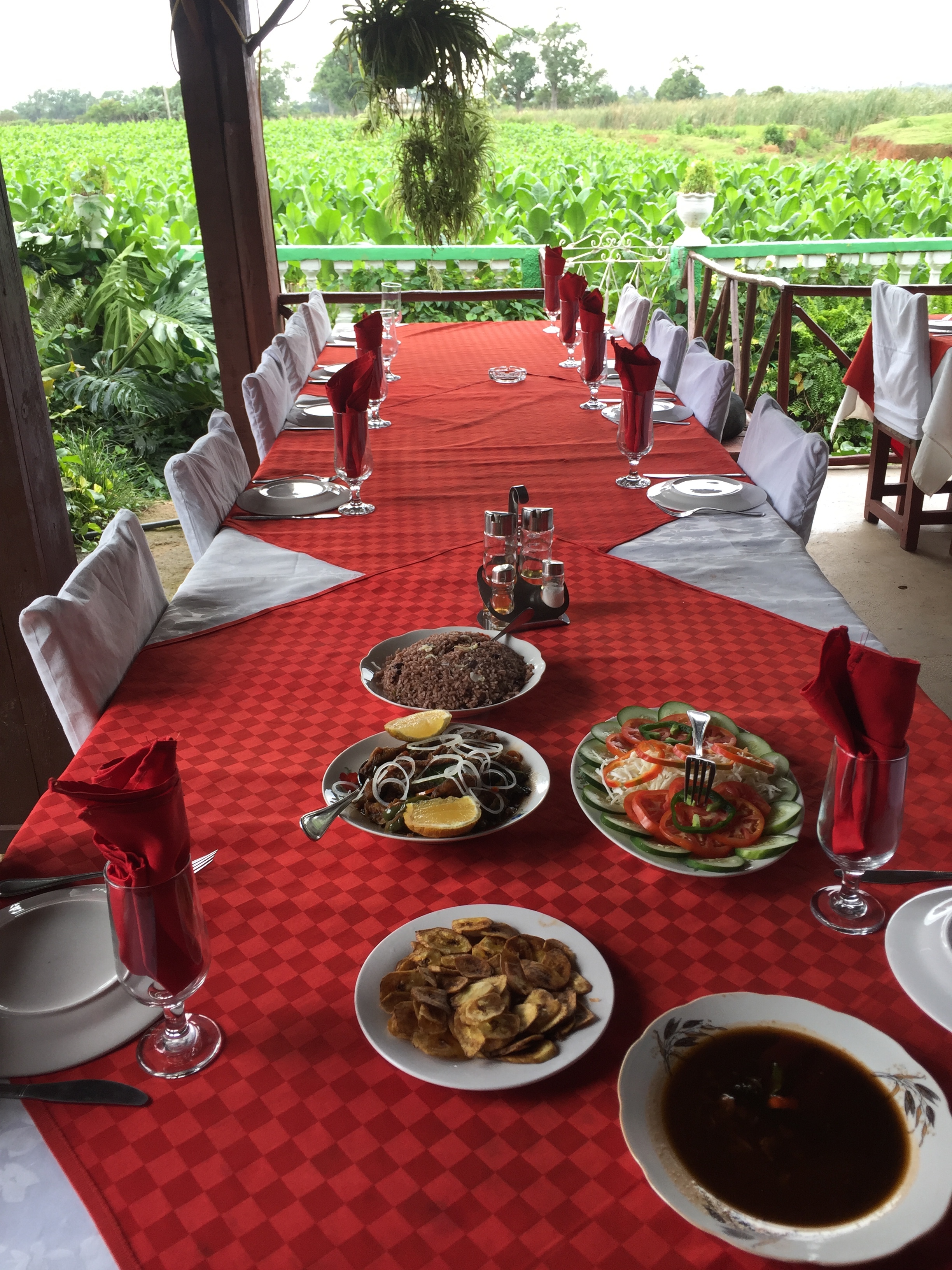 We were relieved to arrive in Puerto Esperanza and escape the terrible air quality and congestion of Havana - it was a welcomed change of pace. Our bed and breakfast in Puerto Esperanza - Casa Wendy - had been reserved for four nights on AirBnb. Immediately upon arriving to Casa Wendy, we were both pleasantly and unpleasantly surprised at the situation - the kitchen was full of flies and the beds felt like they were packed with straw and old pillows and to top it off, the room was 'zebra' themed. With that being said, the place had an amazing view of a tobacco plantation and was located less than a ten minutes from the water. Wendy also claimed to be an accomplished chef, having studied culinary arts at a regional college.
I should have taken the flies in the kitchen as a warning and refrained from eating the food at Wendy's. About six hours after eating a meal there, I experienced the onset of a terrible bout of what I call, "Castro's Revenge." I subsequently lost my appetite for anything prepared by Wendy. Though I didn't feel 100% well, we were scheduled to ride horses with Wendy's nephew, Guarro Diego, the following day, and it was too great an opportunity to pass up. We rode for 10km, one way, through the agricultural countryside of that town, taking pictures of farmers working along the way. We ended at Punta Frances, which was advertised as a beach, but was merely a muddy path cut through the mangroves that led to a grass flat in knee-deep water. Even though it was not what we would consider to be "a beach," the water in the Straits of Florida was very refreshing after three hours of bouncing up and down on an emaciated Cuban "caballo." On the ride back, we stopped at different farms, conversed with locals, and drank "jugo de coco," a coconut opened by machete--the perfect cure for my stomach.
Upon arriving back at Wendy's after the horseback ride, we walked into town and tried to visit the wharf where the fishing boats were docked. We were surprised to find the area fenced off and guarded. We asked the guard if it was possible to walk around the boats and talk with the fishermen and photograph their catches - he quickly said 'no es possible.' Somewhat disappointed in his answer we moved on and came back a few hours later, we tried again with a different guard and received the same answer. Puzzled as to why we couldn't get near the boats, I started talking with friendly locals about the strict restrictions regarding water access. Access to the waterfront in Cuba is extremely limited, which made sense the more I thought about it, and the number of Cubans that try to make the journey across the straits of Florida each year. Cuban fishermen are among the few that are granted access to the high seas. Even so, they are required to check in with the government officials before they leave, and then again when they return to dock. I was still confused as to why tourists couldn't access the water, but was content with focusing my attention to photographing the tobacco farmers.
The next morning we hired Guarro to take us via a horse drawn carriage known as a 'coche de caballo' to fish in a lake where there were catfish and tilapia. On the way to the lake from Puerto Esperanza, we stopped along the way to photograph farmers working in barns and in the tobacco fields. We returned to Puerto Esperanza just before sunset and went to the water where we met a man named Jose Andres, who was crabbing along the shorelines. Jose was using a homemade dip net attached to a stick, baited with fish carcasses to catch Blue Crabs. The crabs in Cuba, are the same species of crab that we have in the Chesapeake Bay and all along the east coast - callinectus sappidus. Jose quickly filled a bucket with blue crabs of all sizes, he later sold the crabs to be used for stock in soups.
Guarro quickly became a friend after our second trip with him, he welcomed us to photograph his family harvesting tobacco at their plantation the next morning. After waking up an hour before sunrise, we walked to the Barrio family farm from Wendy's - about 30 minutes.We arrived to find everyone bundled up in their 'winter' clothing. The temperature - in the low 50's - was comfortable for us, coming from January in Maryland, but not for the Cubans. Around 8am, once the temperature had warmed up, the farmers came out and started harvesting the tobacco. After roughly 70 days of growth, the plants were ready, the yellow ripening on the edges of some of the leaves was an indicator for the farmers. I photographed the group cutting tobacco leaves and transferring them to the drying racks for about an hour and half, until the light became too harsh to shoot. We then made our way back to casa Wendy, got haircuts in town - 1 CUC - and packed up our bags to head south to Vinales National Park for three days.

The next journal entry in this blog will feature stories and images from four days in the town of Vinales.